Sunday, September 2, 2007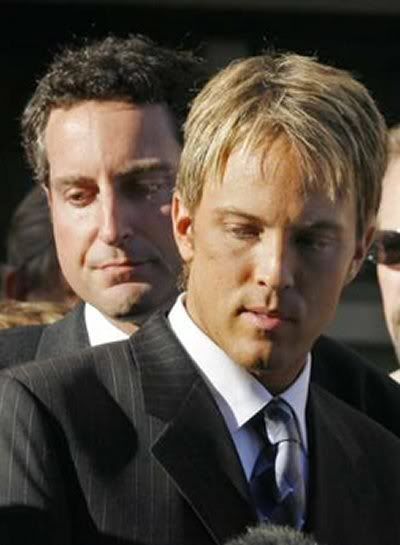 According to the New York Daily News, Howard K. Stern and Larry Birkhead had gay sex! Shocking! A tell-all book written by ex CNN anchor Rita Cosby is said to out the "couple" on having gay sex, settling on the paternity of Danielynn, and on Anna Nicole's estate.
Jackie Hatten, described in the book as one of Anna Nicole's closest friends, said the men were engaged in oral sex.

"Their bodies were intermingled," Hatten says, according to a copy of the book obtained by the Daily News. "It was obvious what was happening."

The shocking book accuses Birkhead and Stern of cutting a secret deal after Anna Nicole was buried in March, with Birkhead getting custody of Dannielynn in return for Stern being named executor of the star's estate."

"The former stripper knew both Birkhead and Stern were gay, the book alleges. But Smith, who was obsessed with Marilyn Monroe, chose Birkhead as her lover because she wanted a blond, blue-eyed baby, according to Cosby.

The tell-all claims Anna Nicole would spread out on her bed and watch a video allegedly showing Birkhead and Stern having oral sex "over and over" while Stern worked on his computer in their Bahamas home. The existence of the video was confirmed by a source yesterday."
Scandal! I love it, this book is going to be the next Hollywood Wives.
Blonde Ambition: The Untold Story Behind Anna Nicole Smith's Death.
is set to be released this Tuesday.
Source
0 Comments: