Friday, April 4, 2008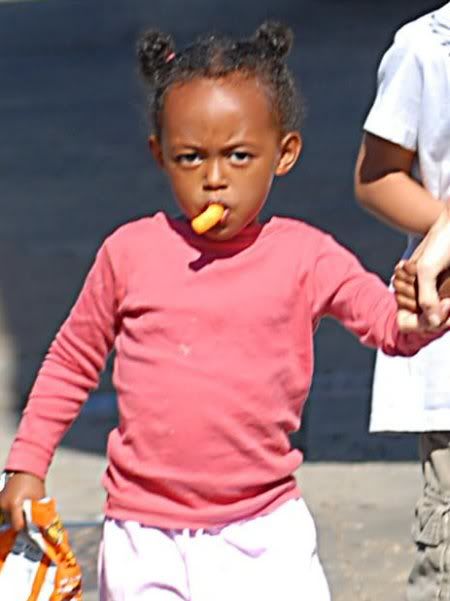 According to
Star Magazine
, Zahara is the diva of the Pitt-Jolie family. She apparently bosses the other kids around and tells them what to do, or she pushes and scratches them. God, I love her. Maddox is also in charge, and pushes Pax around.
Maddox, 6, is constantly pushing Pax, 4, around in an attempt to show him who's boss, says a source. "But Pax is no wimp, and he fights back."

But it's little Zahara, 3, who really rules the roost! "She screams and shouts at the boys when she doesn't get her way," says the source. Not even Shiloh, 22 months, is safe — and the toddler has the battle scars to prove it. "Z is always pushing or scratching her."

Zahara's picking on Shiloh is usually motivated by snacks. "Z once clawed Shiloh's cheek after she tried to take her cookie," says an insider who witnessed one incident. "She's always pulling on Shiloh's hair so she can steal her food."

And little Shiloh has more than her hair to worry about! Recently while Shiloh's three older siblings roughhoused, she got knocked down and chipped a tooth! "Angie gets worried when Shi plays with them," says the insider. "She always comes back with a scraped knee or a fat lip!"
Please, that's what kids do! I used to beat my little brother up all the time. I also used to put all of my mother's makeup on him and tie his hair up into pigtails. Can you tell I wanted a sister?
Source
0 Comments: