Thursday, April 10, 2008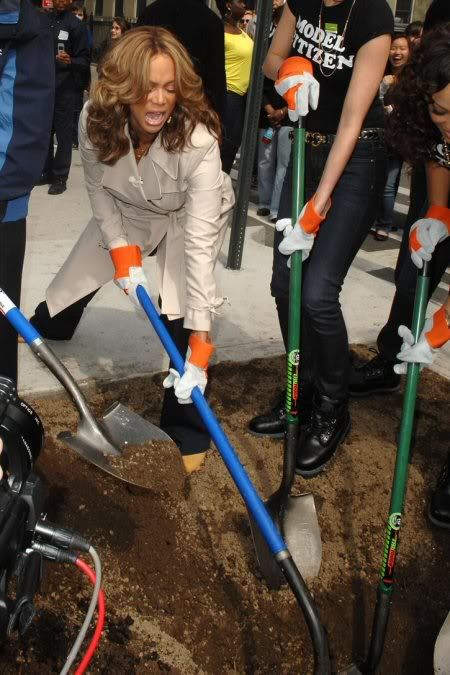 So why not just throw her in? It'll shut her up, at least. I'm guessing that's the only way to get her to stop talking about herself.
Tyra Banks
and some ANTM bitches planted a tree in NYC with mayor Michael Bloomberg to celebrate, well, herself. Did you honestly think she'd plant a tree if it wasn't in honor of herself or her show?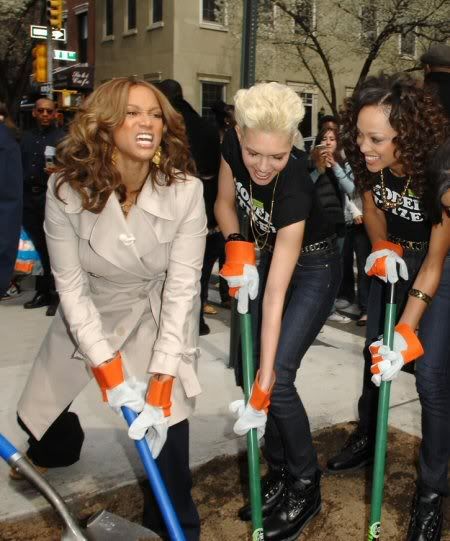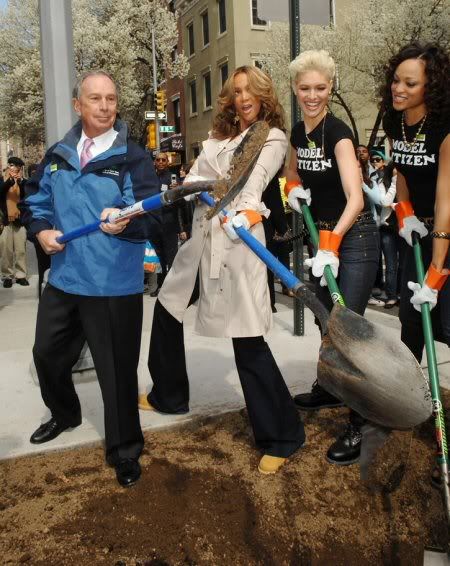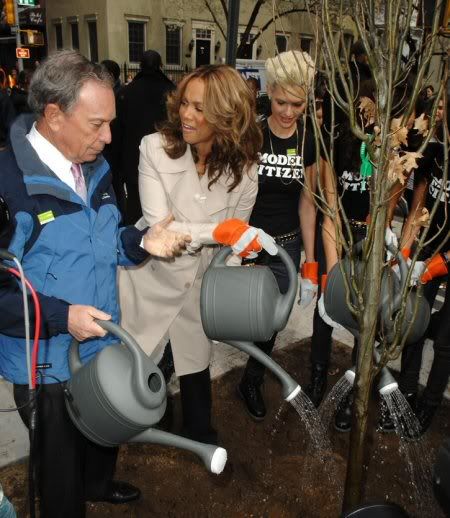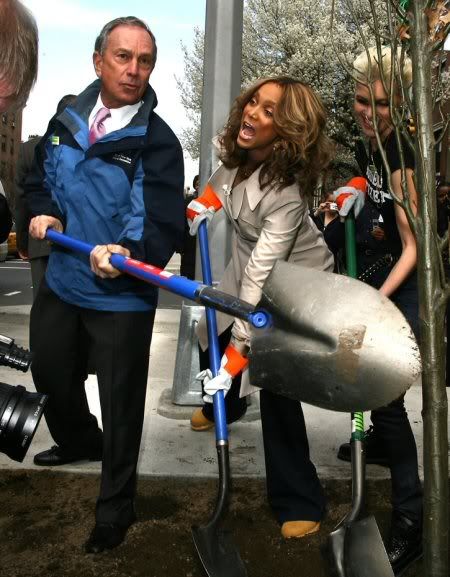 13 Comments:
April 10, 2008 at 4:03 PM

 

I love the way Howard Stern bags on Tyra Banks and her lame talk show! LOLOLOL!

April 10, 2008 at 4:11 PM

 

Am I the only one that loves Tyra?

April 10, 2008 at 9:11 PM

 

^^Yes, you are.^^

April 10, 2008 at 9:23 PM

 

^^ No, she isn't. Tyra Banks may be a bit egotistical, but at least she is out there trying to make a difference in some ways. Her talk show highlights some issues that need to be addressed, and honestly - I think she takes more crap than she deserves.

And in regards to loving how Howard Stern bags on Tyra... Howard Stern is the most egotistical person alive.

Does anyone not remember how furious he was when he didn't receive awards attention for the movie version of his biography Private Parts? Howard Stern's show is lame. Parading human freakshows, and having lesbian strippers make-out is so mid 90s he should be ashamed.

April 10, 2008 at 10:13 PM

 

Saleisha looks sooo hot. Best winner! I love her.

April 10, 2008 at 11:52 PM

 

Secretista honey you are NOT the only Tyra lover, cause as much as people talk shit that woman is my friggin IDOL. I-D-ULLLL

April 11, 2008 at 1:20 AM

 

even if she IS crazy....and is egotistical. At least shes planting a tree for the environment. Thats more then most people can say about themselves

April 11, 2008 at 10:04 AM

 

You serioulsy find the funniest pictures
this one made me laugh so much!

April 11, 2008 at 11:50 AM

 

Saleisha is not the best winner, imo.

Tyra has her strange moments in the media, but overall she's a more positive media influence. Well, that's how I see it.

April 16, 2008 at 5:54 PM

 

i would love for someone to give her a little shove...no one can make the world all about herself quite like TB

May 16, 2010 at 3:02 AM

 

April 14, 2013 at 11:45 AM

 

Russian Distributor of obsolete & discontinued electrical parts & circuits. Specializing in hard to find parts produced in Rissia, Ukraine, Belarus and former USSR countries.

Best regards,

Alexander

please contact us:
e-mail :stock-nelikvid@mail.ru
fax: +38 067 236 8637
skype: radiodetali123

April 17, 2013 at 12:36 AM

 


Недорого купим остатки комплектующих (неликвиды)

ICQ 427-616-956
tel:+380958561468
Людмила

2РМТ36КПН20ШnВ(А)1(ЛБ)В
ШР36У7НШn-К
СШР36П15ЭГn
Разъем РпИм5,5-6-0,5 плоский (100 шт) ИЭК
Разъем DHS-15M
СР50-165ФВ(5) группа Разъемы ---818244
2РМТ42БПН30ШnВ(А)1(ЛБ)В
РП10-42 (вилка) РАЗЪЕМ вилка
1-203, Разъем RCA "гн" металл-пластик на кабель, черный
2РМ14КУН4Ш1В1/разъем
СР50-23ФВ СОЕДИНИТЕЛЬ РАДИОЧАСТОТНЫЙ. 1990-2010 ГОДА.
2РМДТ18КУН7ШnВ(А)1(ЛБ)В
F коннектор на кабель RG6
Разъем 9 pin (п) на кабель (DB-9M) (син., черн.)
Разъем IDC2-отв.часть 2х12 (п) на плату прям.угол, шаг 2 мм (BH2-24R)
PJ044 (2.35mm center pin) Есть
СНЦ13-18/50П-11-а(б,в,г,д,е)(У)В
Разъем BH-24 Есть
Разъем IDC-отв.часть 2х13 (п) на плату (BH-26)
2РМТ22КПН4ШnВ(А)1(ЛБ)В
Нижний разъем Nokia 6110 шлейф Есть
2РТТ36БПЭ5Ш18В
Разъем BST14i2F B1 ZR1 S MGN01
СР50-346ФВ СОЕДИНИТЕЛЬ РАДИОЧАСТОТНЫЙ. 1990-2010 ГОДА.
Разъем Mini USB B (на кабель)
2РМДТ33КПЭ32ГnВ(А)1(ЛБ)В
Нижний разъем 14 pin ( китайских телефонов) 7дн
шр20пк5нг10 роз рос Коннектор "5"
Разъем а/магн. DAEWOO 4235
АДАПТЕР-СОЕДИНИТЕЛЬ NOCANBA (ДЛЯ ПОДКЛ. HT96U)
СНЦ23-61/36Р1(2,4,6,8,11,12,13)(а,б,в,г)В
ШР12П1ЭГn-К
КП-1б/соединитель
СР50-194ФВ(5) группа Разъемы ---810098
Разъем Штекер BNC под винт с колпачком,кабель универсальный до 6 мм. в наличии
Разъем G0.000.0086.0 -G0.000.0086.0 Запрос WE
Соединитель проводов D=4мм, для 3 пров. 1,5-2,5мм, изол. (3WCV2) (SLC3-2)
СР50-163ПВ (5) группа Разъемы ---808969
Разъем микрофон. "Canon" (п) на кабель (66 3M)(XLR-MC-104)
РРС3-10-А-0-1-В
2РТТ36КУН7Г19В
РРМ78/3 разъем для РЭК 78/3 ИЭК
Разъем а/магн. PANASONIC CQ RD 400(210)
СНЦ28-32/27В1В группа Разъемы ---817671
2РМДТ24БПН19ШnВ(А)1(ЛБ)В
Разъем питания 7 конт. (п) шаг 2,54 на плату (WF-7)
2РМДТ36КПЭ22ГnВ(А)1(ЛБ)В
Разъем питания 14 конт. (м) шаг 3,96 (PHU-14)
2РМТ36Б22ШnВ(А)1(ЛБ)В
GX16 18M-4E + GX16 18M-4A Разъем 7дн


60735