Thursday, April 17, 2008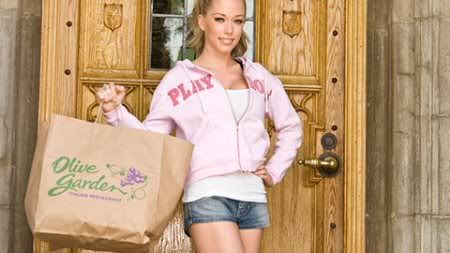 Kendra Wilkinson
, one of the
Girls Next Door
, is looking for some hot Olive Garden chicks. Apparently it's her favorite restaurant so Playboy wants to do a spread (heehee) featuring hot girls who work at Olive Garden. My cousin used to work at Olive Garden but she quit so she can't enter. To enter you need to submit two pictures, a DL which says you're at least 18 and a current pay stub.
I love Olive Garden. Call me a cheap hooker (like that's an insult?), I don't care. They have the best salad in the world. And don't get me started on the Alfredo sauce with the breadsticks.
Source
1 Comment:
brookem said...

April 17, 2008 at 9:34 PM

 

oh i love the og. soup and salad combo? mmmm.